Phemex Review
From the outside looking in, Phemex provides its clients with a wide range of benefits. Firstly, it supports hundreds of different coins, providing traders with a diverse range of options to work with. Additionally, Phemex offers unique, high-tech features, such as one-click copy trading (which can help traders replicate the trades of successful investors), a P2P/OTC trading module, security features such as a hierarchical deterministic cold wallet system, etc. Lastly, users can earn stable passive income through the platform.

What are Some of Phemex's Key Features?
Operational Efficiency
Phemex's native operational trade engine is designed to process over 300,000 transactions per second while offering an extremely quick response time. Not only that, the platform offers robust functionality and availability.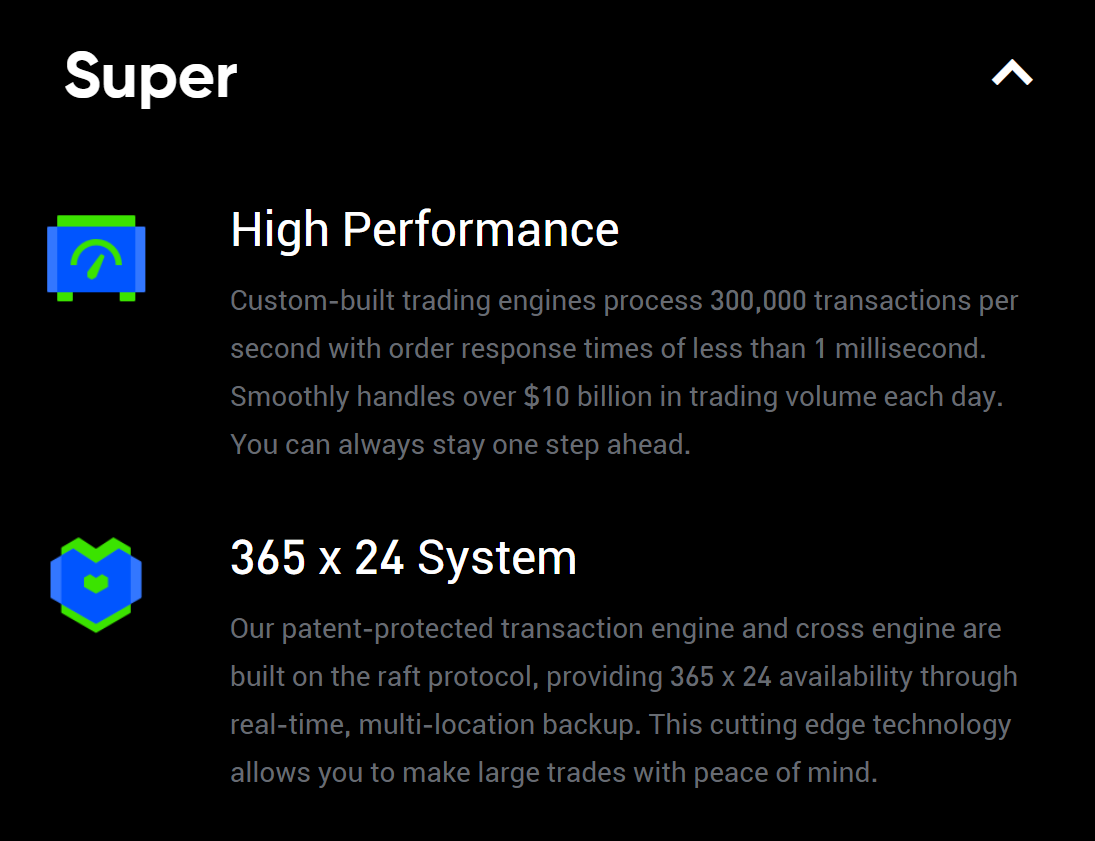 Leveraged Trading up to 100x
Phemex provides leveraged trading, allowing users to trade with up to 100 times their contribution amount. Leveraged trading increases profit potential and can be practiced on the Phemex testnet platform using fake funds. However, leverage trading is risky and should only be attempted by experienced traders.

Phemex Collaborator Program for Affiliates
The Phemex Collaborator Program offers a lucrative affiliate system, with participants potentially earning up to 50% commission on trading fees from their network members. Collaborators can invite other influencers, earning an additional 10% commission from their sub-affiliates. Phemex Collaborators can choose to convert a portion of their commission payouts into xPT, i.e. the pre-mined version of Phemex's platform token. Anyone with a social media account can apply to be a collaborator, and those accepted can start earning commissions right away while enjoying strong platform support and dashboard analytics.

Earn Interest with Fixed and Flexible Accounts
Phemex allows users to earn interest on their unused Bitcoin, Tether, and other cryptos through Flexible Saving and Fixed Saving accounts. Flexible Saving accounts offer easy deposit and withdrawal avenues with a decent rate of return, while Fixed Saving accounts provide higher, more stable returns with a fixed commitment period. Early withdrawals from Fixed Saving accounts are not supported.


Competitions and Campaigns
Phemex frequently runs lucrative promotions and giveaways for its users, where lots of crypto prizes are given out. Trading competitions are also regularly hosted by the platform.


Global Visibility and Partnerships
Since its inception, Phemex has been featured across a number of renowned media outlets, including Forbes, Nasdaq, etc. Moreover, the firm has also entered into strategic agreements with reputable institutions such as Dauphine university.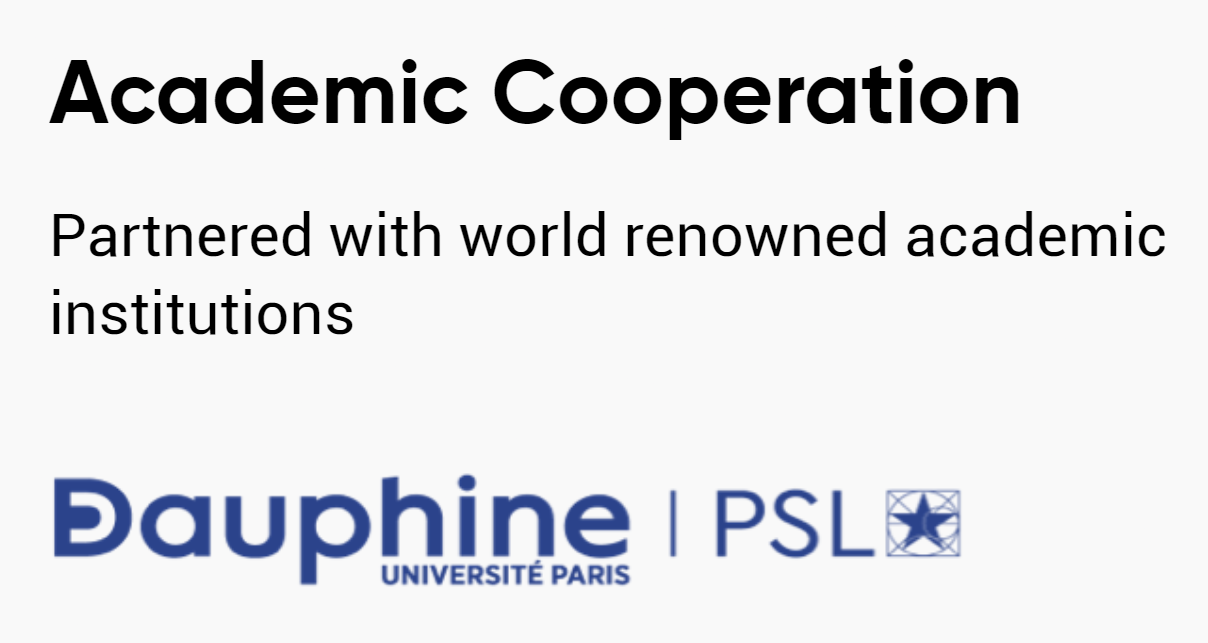 Phemex Web 3
Phemex is pioneering a semi-centralized platform model by infusing decentralized mechanisms with existing CEX operations. The transparent-centric, holistic Web 3.0 ecosystem is called Phemexia. It runs in parallel with the Phemex DAO, which implements a decentralized governance structure to empower a growing group of builders, partners, and stakeholders to make key decisions on platform activity.
This project allows Phemex to harmonize the best aspects of CeFi and DeFi, empowering decentralized decision-making with centralized efficiency of execution. As a top-ranking CEX, Phemex already possesses the advantages of flexible on- and off-ramps, user-friendly UX, and deep liquidity. By innovating the Phemex Soul Pass SBT to build a transparent Web3 reputation system, the exchange also unlocks DeFi opportunities. Such possibilities include trustworthy DAO management, AMM liquidity provider integration, decentralized credit scores, and a lending protocol that supports uncollateralized loans.


Phemex Soul Pass
This is an exclusive 'soulbound' token that serves as a passport into Phemex's Web 3 ecosystem. By minting a Phemex Soul Pass, users get access to the Phemex DAO, Phemexia, as well as the right to pre-mine Phemex Tokens (PT).

Phemex DAO
A decentralized organization of like-minded builders and collaborators who can propose and vote on actions taken by the Phemex platform using their vePT (vote escrow Phemex Tokens)

Phemex Token
Phemex plans to issue its own platform utility token PT (Phemex Token) in Q3 2023. As an on-chain ERC20 token, PT will offer diverse benefits and use cases. Since PT represents ownership of Phemex, it can be staked in return for vePT (vote escrow Phemex Token) in order to actively participate in decentralized platform governance. For Phemex Soul Pass holders, the Phemex Token can be pre-mined as xPT prior to the token generation event. This means that the PSP is your keycard to early access accumulation of xPT at advantageous rates.

Understanding Phemex's Functionality
Phemex is a versatile trading platform that enables users to deposit various digital assets as well as transfer major cryptocurrencies to/from other wallets and exchanges. Both the mobile and desktop versions of the Phemex app feature an integrated wallet for deposits, which can be utilized for spot or contract trading.



Getting Started with Phemex Investments
To start investing via Phemex, users must first complete the mandatory know-your-customer (KYC) procedure. This allows them to enable the OTC account for fiat money deposits. They must then decide between an individual or institutional account before depositing either fiat currency or crypto. Phemex swiftly executes trades once users select their preferred asset and price. Fiat settlements typically arrive in the Phemex wallet within two hours, while crypto settlements are instantaneous.
Diversified Trading Opportunities on Phemex
Apart from trading cryptocurrencies, Phemex users can also engage in gold futures trading. The mobile app plans to introduce more non-crypto trading options soon, including:
Major stock indices
Interest rates
Foreign exchange currencies
Commodities
Energy contracts
Precious metals

Phemex's "over-the-counter" service enables users to conduct fiat-to-crypto wire transfers from various countries. The supported assets include the U.S. dollar (USD), European Union euro (EUR), British pound (GBP), Japanese yen (JPY), Hong Kong dollar (HKD), Australian dollar (AUD), Singapore dollar (SGD), Mexican peso (MXN), among others.

Moreover, users have two options for purchasing cryptocurrencies using sovereign funds:

Through Phemex OTC's partner Legend Trading, provided they reside in a country where bank transfers are supported by Phemex. Once settled, cryptocurrencies are deposited into their account wallets automatically.
Through third-party services such as Banxa, MoonPay, Mercuryo, and Coinify, which enable users to purchase cryptos using a credit card.


Navigating Phemex's Trading Interface
The Phemex dashboard, designed for spot and contract trading, resembles ones that are provided by most typical cryptocurrency exchanges. At the top of the page, users can access a dropdown menu displaying the available trading pairs. Below this menu, "Buy" and "Sell" boxes are located on the left side of the screen for placing orders. Moving to the right, users can find the "order book" or pending trade feed, followed by a chart illustrating price movement and trading volume. The list of completed trades appears on the far right side of the screen. To help traders minimize losses and maximize profits, the dashboard allows for three types of limit orders.
Phemex Account Creation and Access
Phemex offers an extremely simple and user-friendly registration process. Users start by visiting the official website and providing a valid email address and a strong, memorable password. It is essential to use an active and secure email account since all Phemex-related information, including OTP codes, notifications, security updates, and 2FA authentication, will be sent to this email. After registration, users can log in to their accounts to begin trading. The secure login process features 2FA authentication, OTP verification, and other measures to protect user accounts from unauthorized access.

Managing Phemex Sub-Accounts
Phemex allows users to have multiple sub-accounts and makes it easy to switch between them. Users can manage, use, and seamlessly transition between their sub-accounts by visiting the designated sub-accounts page. This page enables users to create, delete, or switch between their various sub-accounts.

Alternatively, they can access their sub-accounts by clicking on their profile name located in the upper right corner of the page, then clicking on "Sub-Accounts." This action will take users to the relevant page, where they can easily manage their sub-accounts.
Executing Trades on Phemex
To execute trades on Phemex, users are required to adhere to the following steps:

Sign in to your Phemex account.
Locate the menu at the top and hover over the 'products' section.
Access the drop-down menu and select 'spot trading.'
Choose the cryptocurrency you desire to trade, such as Ethereum or Bitcoin.
Input the amount you wish to buy or sell in USDT.
Verify your order details to ensure accuracy.
Click the red 'sell' or green 'buy' button to complete the transaction.
Phemex's website reveals that perpetual contracts trading for GOLD/USD and other assets, including S&P 500 equities, stock indexes, interest rates, FOREX, commodities, energy, and metals, will soon be available on the platform.
Phemex Bonuses Overview
Phemex offers welcome and referral rewards to its users. When a person signs up for the platform, they can access a reward pool of 100,000,000 xPT (via xPT pre-mining). As the precursor to Phemex's upcoming platform utility token, xPT can eventually be redeemed on a 1:1 basis for PT. Furthermore, users can grab an additional $50 reward from signing up and completing simple tasks listed on the platform's welcome rewards page, such as completing a trade.
For Referral Rewards, users can invite others to register and trade on Phemex using their own unique referral code. Based on their invitees' trading volume, three reward milestones are available. In total, the referrer can get up to 10 USDT per referral while the invitee can receive up to 3 USDT.


Phemex's Fee Structure
Phemex offers convenient options for withdrawal fees, and deposits on the platform are free of charge. Regarding trading fees, Phemex imposes a 0.06% taker fee and a 0.01% maker fee, which is in line with industry standards. Moreover, Phemex implements a funding rate based on a user's leveraged position, meaning highly leveraged positions significantly influence equity.
Deposit and Withdrawal Methods Available on Phemex
Phemex's native wallet supports credit card and Bitcoin transactions for deposits and withdrawals. The minimum withdrawal limit is set at 0.002 BTC.
Before using Phemex, users must first purchase Bitcoin. They can either deposit BTC into their wallet and proceed to trade on the platform or directly deposit BTC on Phemex after signing up. To trade Bitcoin-settled contracts, users must fund their Bitcoin trading accounts with pre-deposited funds from a wallet. Alternatively, users can transfer BTC from their preferred crypto wallets to their USD trading account at real-time rates to trade USD-settled contracts.
Withdrawing funds is simple for users. They need to enter their wallet address followed by the desired Bitcoin withdrawal amount and complete the transaction using standard 2FA capabilities. However, unlike other exchanges such as Coinbase, Phemex does not appear to offer white-listing of Bitcoin addresses.


Exploring Phemex's Spot Trading Features and Interface
Familiar Trading Interface for All Skill Levels
Phemex's trading platform employs a standard modular design approach — similar to many other popular cryptocurrency exchanges. Moreover, it integrates TradingView's powerful charting interface, allowing investors to make more informed real-time decisions. As a result of its highly accessible UI, Phemex is suitable for traders of all skill levels while at the same time catering to the needs of even the most advanced technical analysis traders.

Thanks to its integration with TradingView, Phemex's trading screen provides users with access to an unlimited number of indicators and highly customizable screen modules. This extensive range of tools and features ensures that traders have all the necessary resources at their fingertips.
For those new to trading, it is worth mentioning that Phemex's native interface supports demo trading and offers an extensive learn & academy section for beginners. This makes it an ideal place for novice traders to gain experience before they start trading with large sums of money.

The CrossEngine and TradingEngine Powering the Platform
Phemex's trading engine is powered by the highly popular 'CrossEngine and TradingEngine.' The two systems are designed to match client orders based on price and time priority. Moreover, CrossEngine is designed to handle 300,000 transactions per second with an execution time of under 1 millisecond.
The platform supports the following trade orders:
Market orders - Instantly executed and filled at the best market price.
Limit orders - Instant execution if the price reaches the set value. Users can choose the method of execution: GoodTillCancelled (GTC), ImmediateOrCancel (IOC), or FillOrKill (FOK).
Conditional orders - Similar to limit orders, but traders can set a trigger price.


Wide Range of Spot Trading Pairs
Phemex offers over 250 spot trading pairs, which should suffice for most traders. However, those seeking to trade the smallest market cap and hardest-to-find altcoins may prefer other exchanges. It is also important to note that Phemex does not support margin or leverage trading for its spot trading market.


Learning and Enhancing Trading Skills
For users looking to learn more about trading or improve their technical analysis skills, Phemex provides valuable resources to help them become more proficient in navigating the platform and understanding market trends. With the right tools and guidance, users can make the most of Phemex's spot trading features and maximize their trading potential.
A Comprehensive Selection of Derivatives Trading Options
Phemex has gained popularity among derivatives traders, offering 150+ USD-M and Coin-M perpetual contracts. The platform also plans to introduce USDC Perpetual contracts soon.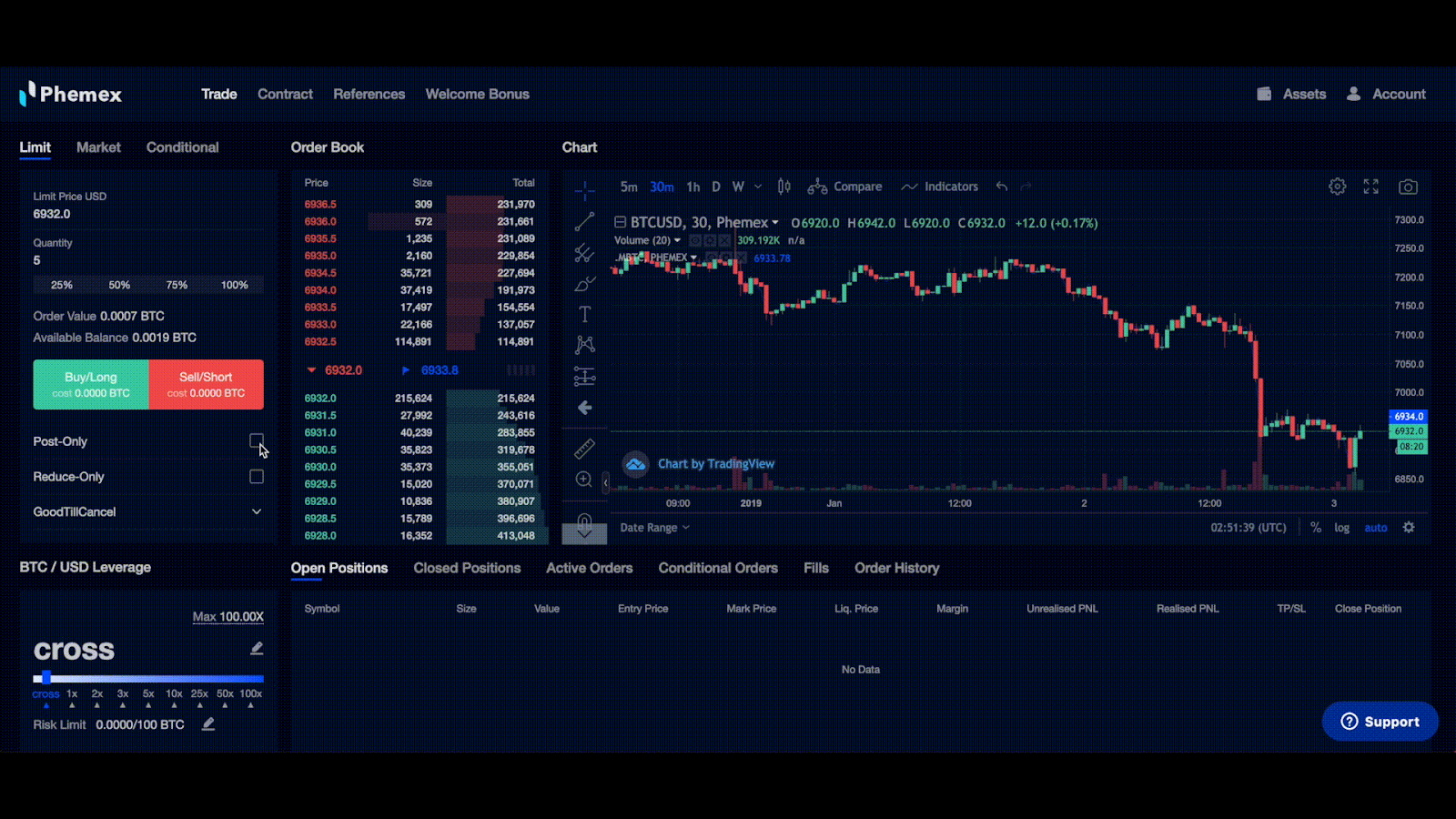 Leveraging TradingView for Derivatives Trading
Similar to its spot trading counterpart, Phemex's derivatives trading platform allows traders to access up to 100x leverage when trading contracts. The charting interface is also powered by TradingView, ensuring a seamless experience across both trading options.
A Variety of Order Types and Advanced Settings
Phemex's derivatives trading platform supports several order types, including Limit, Market, and Conditional orders. In addition, the platform offers advanced settings for traders to customize their strategies:
Reduce-only: These orders only reduce the trader's position without increasing it.
Post-only orders: These orders do not execute immediately and are used to ensure a Marker Rebate.
Bracket Order: These orders help limit a trader's loss and lock in profit by "bracketing" an order with two opposite side orders.
Good til Cancelled (GTC): GTC orders remain open until they are filled or the user manually cancels them. Traders can also select ImmediateOrCancel (IOC) or FillOrKill (FOK) options for further customization.
Connection Speed Monitor and Platform Overview
Phemex's platform features a convenient ping monitor at the bottom left-hand corner, displaying the speed at which the user's connection sends and receives data. This allows traders to be aware of any potential connection issues that may impact their trades.
Phemex's Security Infrastructure: A Comprehensive Overview
Hierarchical Deterministic Cold Wallet System
Phemex incorporates a Hierarchical Deterministic Cold Wallet System, which assigns unique cold wallet deposit addresses to each user, enhancing the platform's security and making it one of the most secure cryptocurrency exchanges available.
The system periodically collects deposits and transfers them to the company's multi-signature cold wallet using offline signatures. That said, since the platform processes withdrawal requests three times per day, it may result in longer-than-usual withdrawal waiting periods.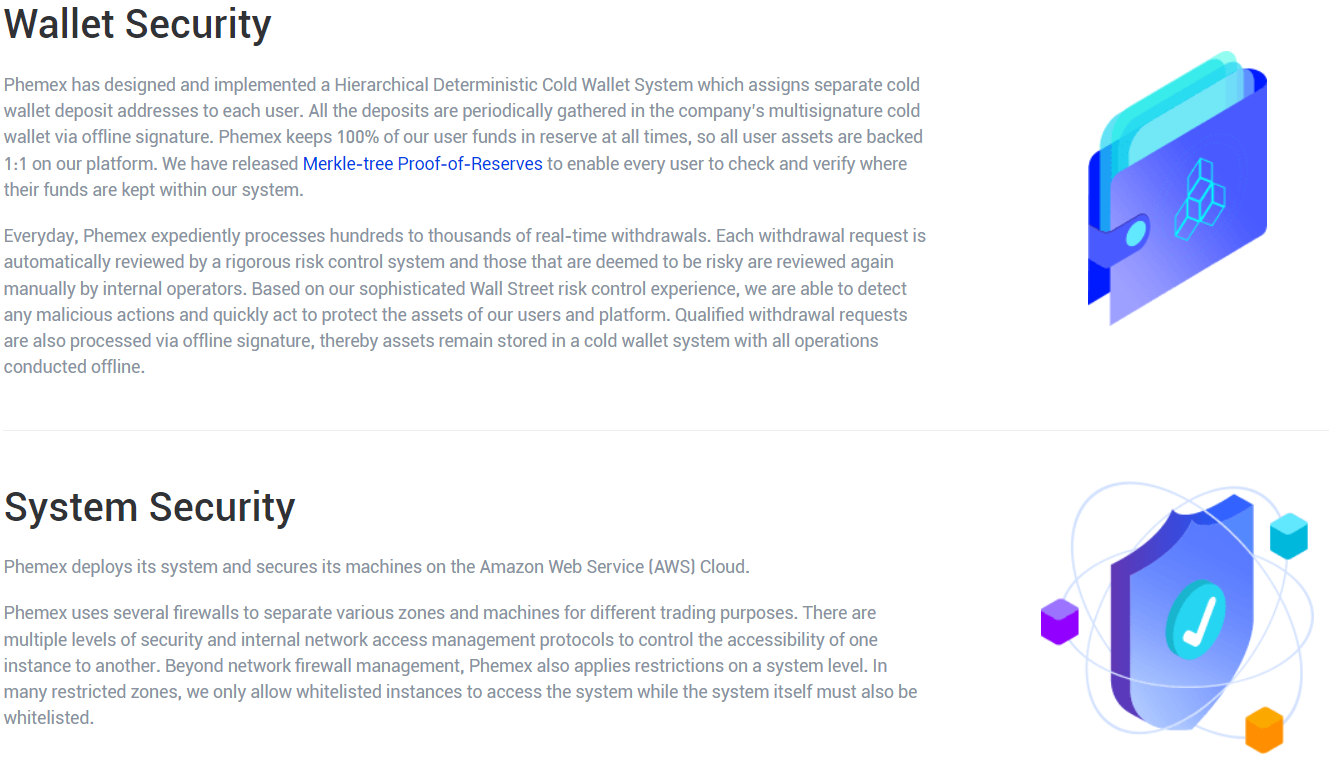 Amazon Web Services (AWS) Cloud Infrastructure
Phemex relies on Amazon Web Services (AWS) Cloud to maintain its servers, which is a widely recognized industry standard that meets or surpasses safety and security requirements. Furthermore, Phemex employs firewalls to segregate trading zones within its internal network, providing an additional layer of security.


Minimal Downtime and Recovery Technology
When using the platform, users should experience very little downtime. The exchange claims that its recovery technology ensures a 99.99% uptime for users, making it virtually undetectable in terms of unexpected system outages. This level of reliability is crucial for exchanges operating around the clock, seven days a week.
Additional Security Features and Measures
Phemex employs a combination of advanced security protocols and industry best practices to ensure that user information and funds are well-protected. Some of these additional security measures include:
Two-Factor Authentication (2FA): Users are encouraged to enable 2FA on their accounts, providing an extra layer of security to prevent unauthorized access.
Encrypted Data Transmission: Phemex uses SSL (Secure Socket Layer) encryption to protect data transmitted between users and the platform, ensuring the confidentiality of sensitive information.
Regular Security Audits: The platform undergoes periodic security audits to identify and address potential vulnerabilities, keeping its systems up-to-date with the latest security standards.
Employee Security Training: Phemex invests in ongoing security training for its employees, fostering a security-conscious culture within the organization.
Secure Storage of Assets: The majority of user assets are stored in cold wallets, which are offline and less susceptible to hacks and cyberattacks. This storage method minimizes the risk of asset loss due to security breaches.
Withdrawal Address Whitelisting (planned): Though Phemex currently does not offer withdrawal address whitelisting, it may implement this feature in the future to provide users with an additional layer of security.
Phemex's Commitment to Security
Phemex's dedication to maintaining robust security measures and its innovative technology and infrastructure makes it a reliable and secure platform for cryptocurrency traders. As the platform continues to evolve and grow, it will likely remain vigilant in addressing emerging security threats and enhancing its existing security protocols to protect its users and their assets.

As a relatively new derivatives trading exchange platform, only time will reveal how Phemex will respond to potential security threats and cyberattacks. However, the platform's current security measures and infrastructure indicate a strong commitment to user safety and asset protection.


Phemex's KYC Verification Protocol
Phemex provides a user-friendly platform for cryptocurrency trading without requiring mandatory KYC verification. This allows users to deposit, withdraw, and trade cryptocurrencies with minimal restrictions. However, completing KYC is necessary for purchasing crypto or accessing OTC accounts.
The registration process on Phemex is simple and hassle-free, involving email verification, password creation, and setting up essential security features for the account. This streamlined process makes it accessible for users to begin trading quickly.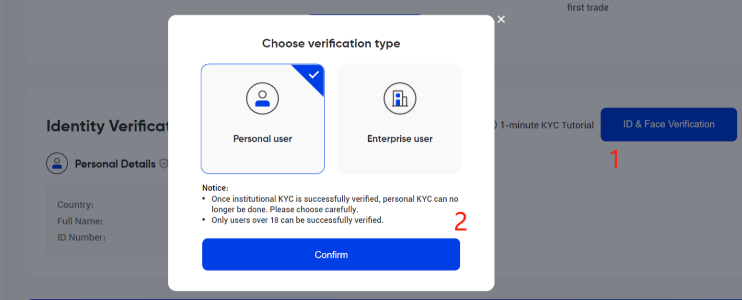 Users must complete the KYC process through a third-party vendor when purchasing crypto. This typically involves submitting personal information, such as a government-issued ID, home address, and a selfie for identity verification. These steps help ensure secure transactions and prevent fraudulent activities.
For account verification on Phemex, users need to follow a 12-step procedure. The process starts with accessing the KYC verification option on the app, followed by selecting the issuing country of the ID and the type of ID being provided. After capturing and confirming a clear document photo, users must proceed to face verification. The app guides users through aligning their face within the designated space for an automatic scan and upload. After successful verification, the user's account status will update to "Verified."
Understanding Phemex's Fee Structure
Trading Fees
Phemex offers a competitive fee structure with a 0.01% maker fee and a 0.06% taker fee, allowing users to trade even small quantities without being burdened by excessive fees. The exchange encourages users to fill the order books to ensure higher liquidity by charging higher fees for takers compared to makers. The platform also offers VIP levels to bigger traders. There are a total of 7 VIP levels with the lowest fees being 0% maker and 0.0325% taker.
Funding Rate on Phemex
The funding rate is an essential factor to consider when trading on Phemex. Paid every 8 hours, the funding rate can be either negative or positive, affecting both long and short-position holders. In the case of a negative funding rate, short holders pay long holders a percentage of their position, while long holders gain interest on their position. For example, if the funding rate is -0.0094%, short holders will be charged 0.0094% of their entire position.


Deposit and Withdrawal Fees
Phemex does not charge any deposit fees, though there are minimum deposit requirements. Withdrawal fees depend on the cryptocurrency, and there is a minimum withdrawal limit. For instance, Phemex charges 0.0005 BTC for BTC withdrawals and 1 USDT for USDT withdrawals.
Earning with Phemex
Phemex offers users several ways to earn interest on their crypto assets held on the platform, catering to different preferences and risk profiles.

(i) Flexible Savings: This product enables users to earn interest on their cryptocurrencies without any lock-in periods. The savings rates range from 0.3% to 2% and support assets like BTC, ETH, SOL, and stablecoins. Phemex currently supports 11 assets, which is a competitive offering compared to many other platforms in the market today.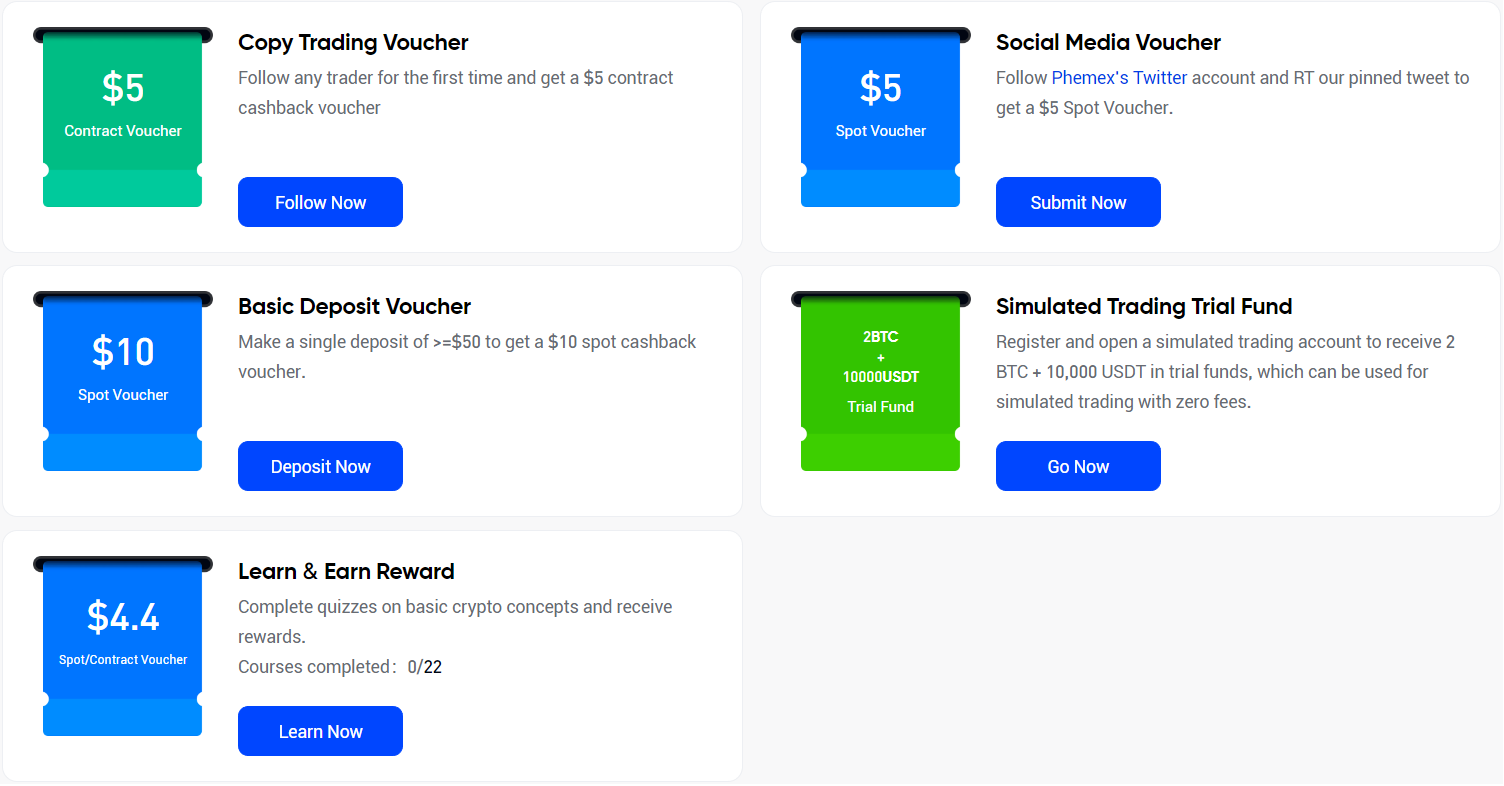 (ii) Fixed Savings Accounts: Fixed Savings Accounts provide higher interest rates for those willing to lock their funds for specified terms. These accounts boast APYs ranging from 0.5% to 8.80% and lock-in periods of either 7 or 14 days, making Phemex a flexible choice for earning passive income on crypto holdings.
(iii) Phemex Launchpool: The platform's third earning option, the Phemex Launchpool, allows users to discover new projects while earning higher returns on their tokens. It features tokens and projects that offer higher APYs than typical staking, with some campaigns boasting APYs as high as 493%. The duration, rewards, and available staking methods in these pools vary for each token campaign.


Phemex's Top Trader Competition Explained
Many crypto exchanges have popularized the gamification of trading by hosting contests where traders can compete with one another to earn extra winnings and prizes. Phemex has entered this competitive trading world by running multiple teams and solo trading contests, offering participants the chance to win crypto and exclusive rewards.

To elaborate, as part of a recent campaign, the top three traders with the highest PNL received a $500 bonus, an extra 20% commission from traders copying their trades, and increased social media exposure and trader profile promotion on the platform. This could lead to a lucrative trading career for consistently profitable traders. Those ranking 4th to 50th received a $100 bonus, making trading contests an attractive option for traders seeking extra incentives.
Copy Trading Via Phemex
Copy trading offers a way for traders to earn passive income. It benefits both experienced and new traders in several ways:

Beginner traders can study trades and learn from experienced traders while earning an income, similar to an apprentice learning from a craftsman.
Experienced traders can share the workload and gain a side income by trading multiple assets.
Traders can diversify by focusing on their expertise and copying trades from those specializing in other assets.
Experienced traders can share strategies, earn profit from their followers, and gain extra income from allowing others to copy them.
Traders seeking hands-off income can simply copy the pros.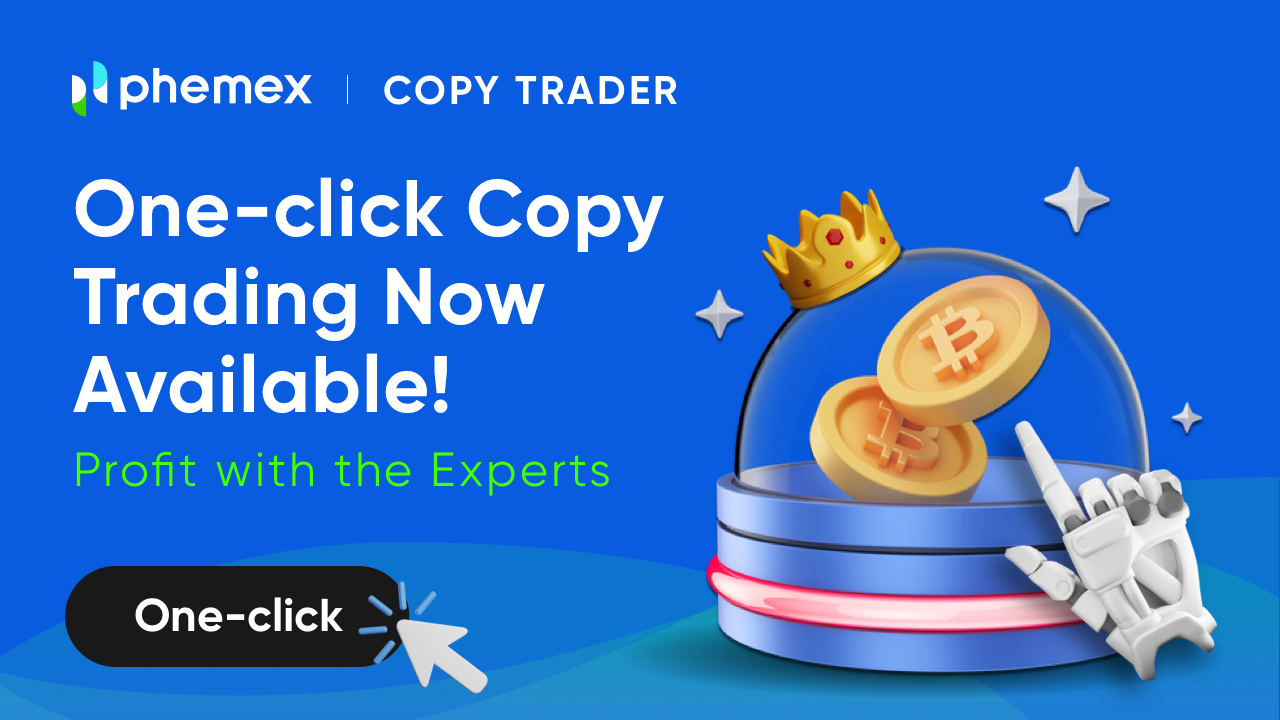 The copy trading area on Phemex displays trader profiles with essential metrics like total P&L, monthly ROI, and monthly P&L. When selecting a trader to copy, it's crucial to consider longevity over the highest ROI. A sustainable, realistic, and healthy positive rate of return over a longer period is more valuable than a lucky streak.
Experienced traders who offer their trades to be copied can earn incentives such as additional income from followers' profits, extra commissions, follower growth, exposure through the platform's social media and promotions, VIP services, holiday gifts, exclusive prizes, and special customer support.
Phemex Launchpad - A Deep Dive
Launchpads have gained popularity on numerous exchanges due to their ability to grant average traders and investors early access to projects. Traditionally, this opportunity was exclusive to venture capital firms or individuals with deep pockets and influential connections. Launchpads like Trader Joe DEX, Enjinstarter, and TrustSwap have become attractive options for many.
Launchpads can be highly lucrative, enabling investors to acquire tokens at a fraction of their all-time high prices during bull runs. These massive gains are what investors dream of.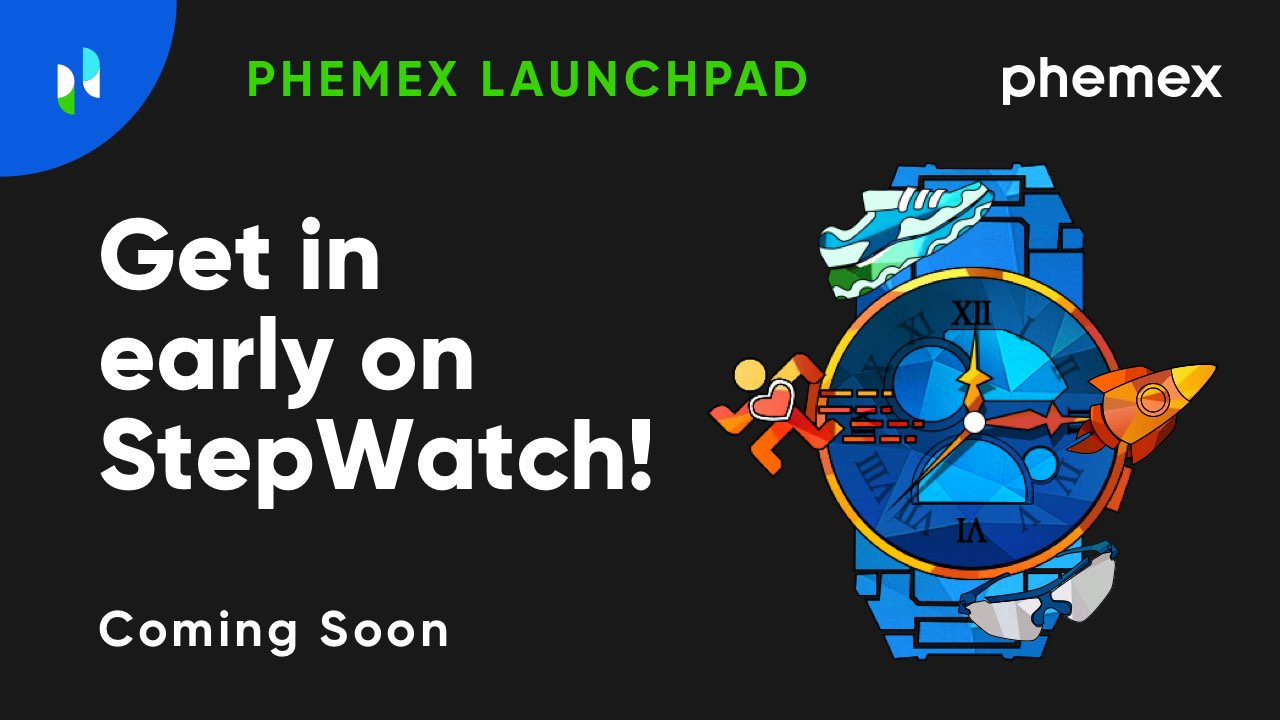 Phemex selects promising projects for its users to engage with, allowing them to buy tokens in their early stages before being officially listed on the platform. The Launchpad portal displays upcoming launches, enabling customers to assess the project's potential and decide whether to participate.

Phemex Mobile App Experience
Phemex has dedicated substantial effort to developing an exceptional mobile app for users who prefer to trade on the go. The app is highly user-friendly, boasting of an impressive UI/UX design that delivers a satisfying crypto trading experience. Most of the web platform's functionalities are available on the app, and the recent overhaul has garnered positive feedback from users.

The Phemex App has received outstanding ratings, with a 4.7/5-star score on Android and a 4.5/5-star score on iOS, based on over 15,000 reviews across both platforms.
What is Phemex's Customer Support Like?
When it comes to customer support, Phemex shines bright. The platform offers multiple support channels, including email, live chat, and the Telegram community. Their Help Center is also comprehensive, though more step-by-step guides would be helpful for new traders.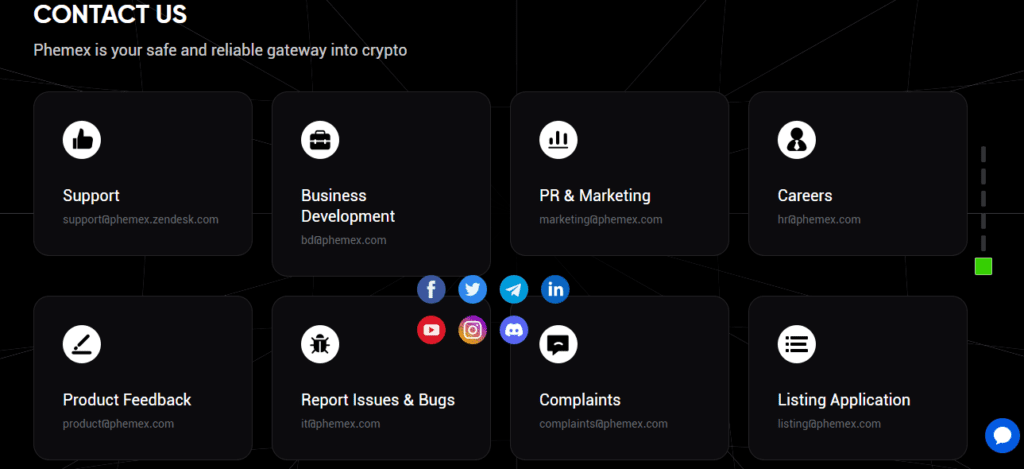 During a recent test of its live support capabilities, many online reviewers were impressed with the speed and quality of their responses. Every time they contacted live chat, they were connected to an agent in under a minute. Email responses were also received in under 30 minutes, and the quality of support was high. Additionally, Phemex's commitment to crypto education is evident through its Phemex Academy, which offers high-quality content for traders of all levels.

A Quick Recap of What Phemex has to Offer
Phemex, a Singapore-based cryptocurrency exchange founded in 2019, is regulated by FinCEN and holds licenses for money transmission activities in multiple states, enabling it to operate globally. The platform lists over 250 spot cryptocurrencies but does not have a native token.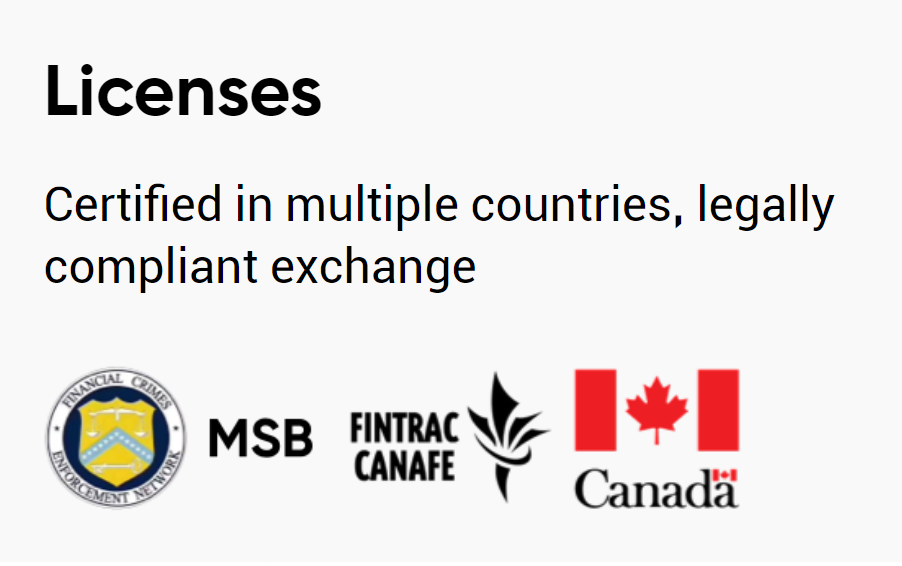 Phemex's maker/taker fees range from 0.1% at the highest to as low as 0.002% for makers and 0.03% for takers, depending on the user's trading volume. The platform boasts high security but is not considered beginner-friendly.

While KYC/AML verification is not required for depositing, withdrawing, or trading cryptocurrencies, users must complete the verification process to purchase cryptocurrencies or withdraw fiat currencies. Phemex supports various fiat currencies, including USD, EUR, GBP, CHF, JPY, and CAD.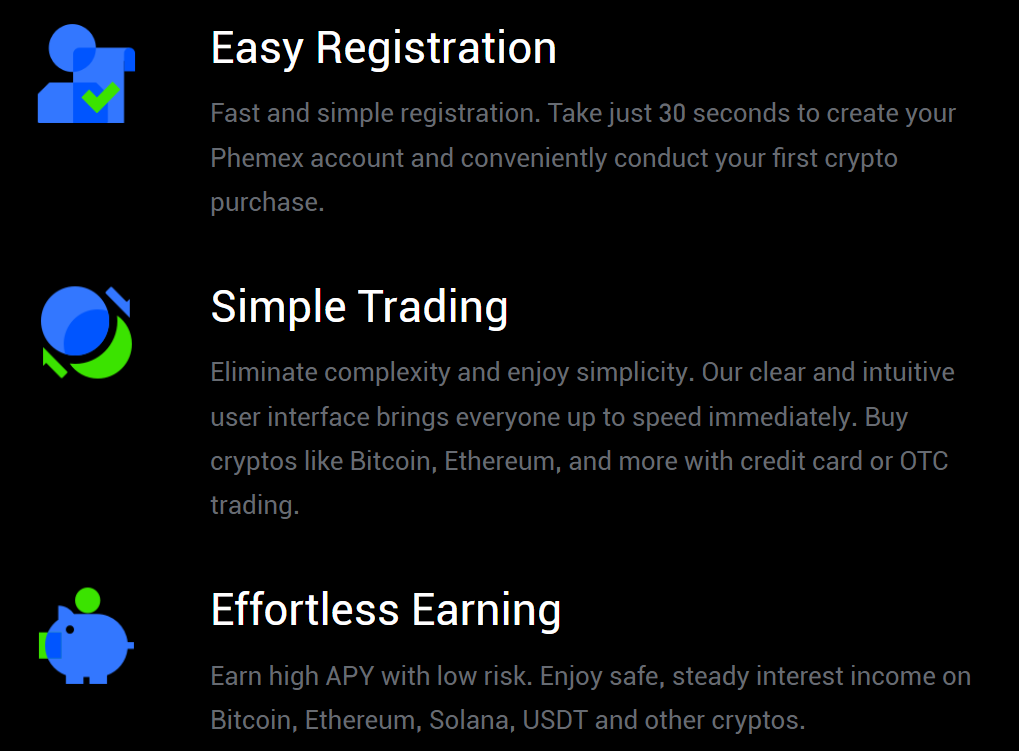 Deposit and withdrawal methods on Phemex include debit/credit cards, Apple Pay, Google Pay, wire/bank transfers through third-party services, and USD wire transfers via OTC accounts. Users can buy cryptocurrencies, deposit funds using crypto or wire transfers, and withdraw funds in crypto or via USD wire transfers.

Conclusion
After a thorough review of Phemex and its core features, it is clear that the platform has made great strides in becoming a major player within today's burgeoning crypto economy. Moreover, with its recent regulation and entrance into the US market, Phemex has expanded and introduced new features and functions that have caught the attention of serious traders. The platform's copy trading, contests, and powerful trading engine have been particularly attractive to users.
While Phemex may have some growing to do in terms of product and market offerings, its current expansion and trajectory suggest that it could easily place itself as a top-five exchange in the future. All in all, Phemex is a promising exchange that is worth considering for traders looking for a platform with lucrative features and functions.

Want to trade on Phemex? You can create an account here.